Croquet PRO trolley - for 4 players
Product detailed description
Professional wooden version of the game of croquet. A more solid design with a beautiful wooden trolley for easy transport of the game.
The set is designed for up to 4 players.
Package includes: 4x stick (hammer + handle), 4x colored ball, 2x starting/target pin, 10 goals, 1x wooden cart, Czech rules (other languages are also included).
Size: hammer: 21x5,5cm, handle: 90x2cm, ball: diameter 8,5cm and weight approx. 320g, goal-covered wire: 25x17cm.
Only in our design engraved numbers on the goals as a gift.
Watch the video where we describe the individual components.
Rules
The rules of the game (sometimes mislabeled as Cricket - it is a different game with different rules) in Czech language are included. Also included is a basic gate placement diagram.
Our version also includes simplified Czech rules - for playing with children or recreational play.
Packaging
The game Kroket is packed in a cardboard box.
Important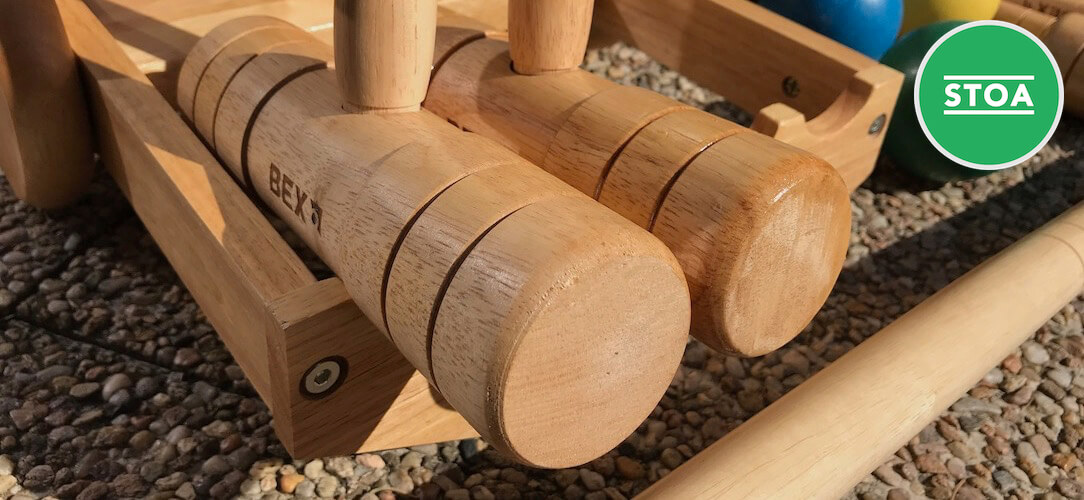 Game elements for the game Kroket PRO are made of quality hardwood (rubberwood) - mallets and starting and finishing pins. The wood is treated with an exterior varnish. The wood will thus withstand longer impacts and many games.
The balls are made of hard plastic - but be careful not to use the plastic balls that children usually have in playrooms. This design of the balls is excellent in that they can withstand frequent impacts and are almost indestructible.
We recommend: always choose only high-quality wooden sticks and other accessories. Made of hardwood and with a protective coating - the only way to guarantee long-lasting play.
Read on our blog what version of croquet to choose.
Method of play
This design can be played by 2-4 players. They play against each other individually or in teams. Each player plays with a mallet and one colored ball. The object of the game is to go through the gates towards the turning pins and back to the starting pin. The winner is the player who walks the entire course in the least number of strokes. Check out our video review.
Extra
When you see this design in person, you'll be convinced that you're not wrong. Beautiful and high quality design of sticks, balls, goals...
Take this design: as a gift, for connoisseurs and "demanding", you like beautiful quality things, for pleasure...
Game parameters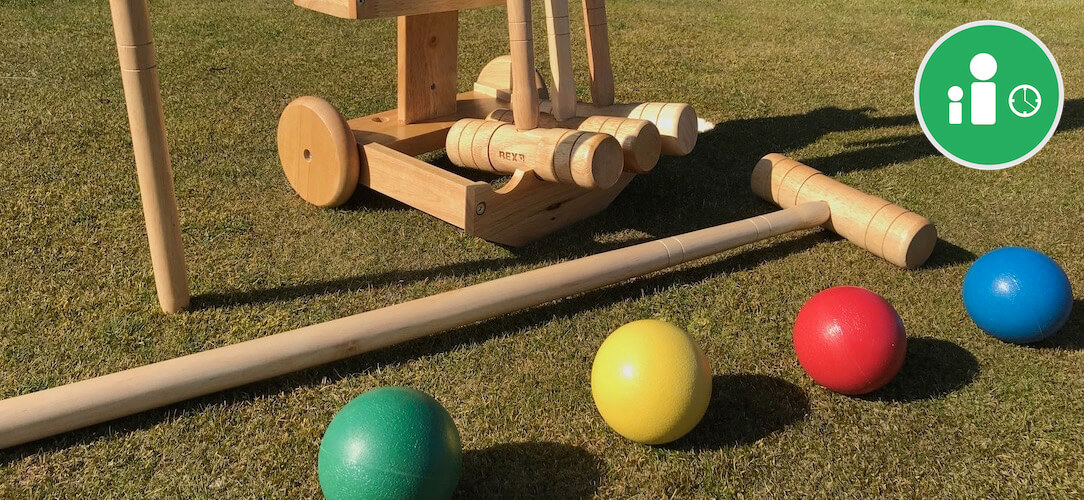 | | |
| --- | --- |
| Number of players: 2-4 (8) | Communication: |
| Playing time: 30 minutes | Strategies: |
| Age of players: from 6 years old | Coincidence: |
| Preparation difficulty: easy | |
Game Review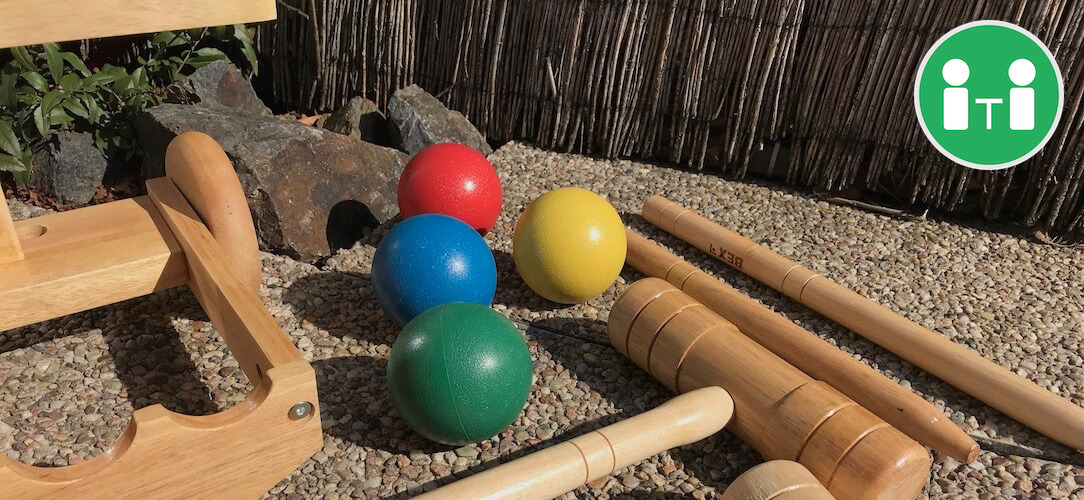 | | |
| --- | --- |
| Ondřej rates + / - | |
| + popular game | - grassy area a must |
| + simplified rules are included | - a trolley can take up space |
| + beautiful wooden trolley | |
The croquet is made of high quality hardwood. The sticks and the start and finish pins are also lacquered to make the game look better and last longer. However, it is necessary to reckon with the fact that the wooden elements will be used over time anyway, but it will have no effect on the game... We wrote about the game complete review, be sure to read it on our blog.
Expert opinion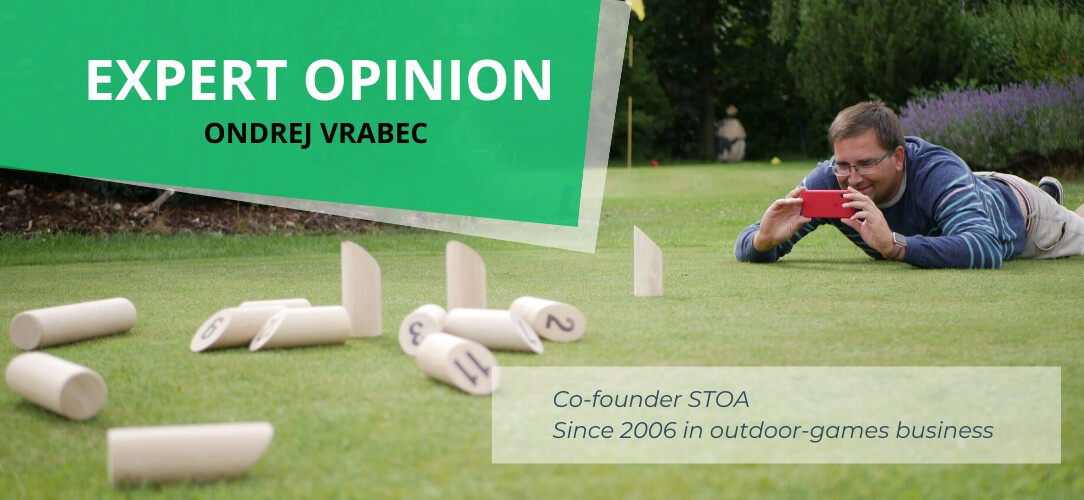 This rendition of Kroket is really quite hilarious. Sturdy sticks, target and starting pegs and a beautiful wooden cart that makes the game lovely to transport. If you're looking for a quality hardwood design, you won't go wrong here.
My recommendation is: always choose a good quality hardwood to make your game last. The higher price is due to the fact that you will only find quality designs that last. During the game, keep in mind that the wooden balls can be hit, but the point of the game is not to play croquet like baseball, so there is no need to use force when hitting.
Additional parameters
Category

:

Croquet
Number of Players

:

4 players
Be the first who will post an article to this item!

BEX Sport AB - Swedish manufacturer of garden games. Producer of traditional wooden games (Kubb, Croquet, Mikado, Rings, Domino, etc.).
We offer all the games but only in Original or PRO versions – we put emphasis on high quality wood finish.