Croquet Original PLUS - for 6 players
Croquet, a popular garden game in this version for up to 6 players. Extended handle.
New longer version! Our most popular croquet with a longer shaft/handle/set.
This croquet set is designed for up to six players - different coloured sticks and balls.
Package includes: 6x stick (hammer + handle made of wood), 6x colored ball (new design for better durability), 2x target/starting pin wooden, 10 goals, 1x bag - orange, rules.
Size: hammer: 15x5,5cm, handle: 100x2cm, ball: diameter 7cm and weight: approx. 115g, goal-covered solid wire: 23x17cm.
GIFT: engraved numbers on the goals as a gift.
Watch the video where we describe the individual components.
Rules
The rules for Croquet (sometimes incorrectly referred to as Cricket - it is a different game with different rules) are included. Including a basic diagram for setting up the gates.
Please note: our version we sell also includes "simple rules" - designed especially for recreational play.
Packaging
The game is packed in a colourful cardboard box.
Also included is a bag for easy carrying and storage of clubs, balls, wickets and pins.
So you can conveniently pack everything in the included bag.
Important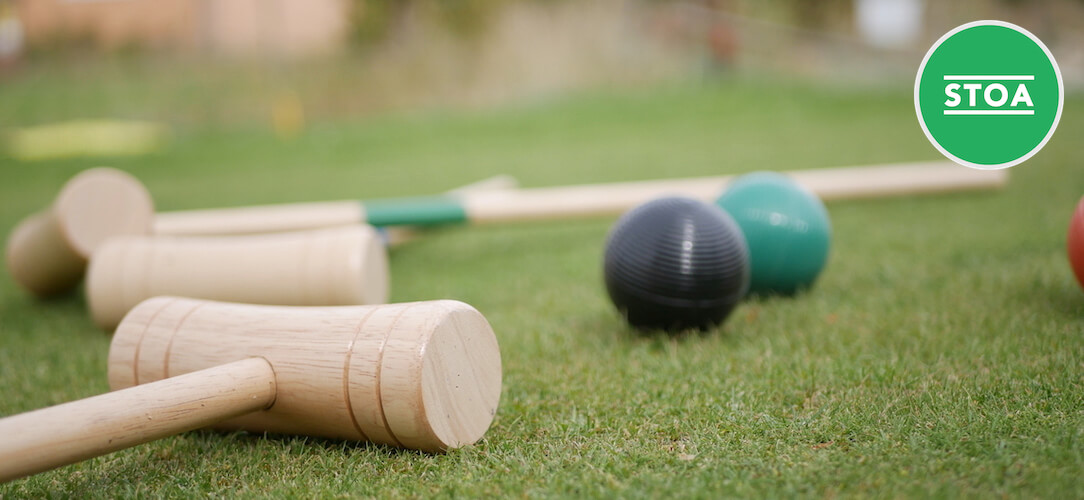 The game elements are made of high quality hardwood (rubberwood) - sticks and starting and finishing pins. The wood is treated with an exterior varnish. The wood will thus withstand longer impacts and many games. If the sticks and balls get dirty, they can be wiped with a damp cloth and dried.
The balls are made of hard plastic - not the plastic balls that children usually have in playrooms. This design of the balls is excellent in that it can withstand frequent impacts.
Recommended: always choose only quality wooden sticks. Hardwood and with a protective coating.
Read on our blog what version of croquet to choose.
Method of play
Croquet can be played by 2-6 players. They play against each other individually or in teams. Each player plays with a mallet and one colored ball. The object of the game is to go through the gates towards the turning pins and back to the starting pin. Check out our video review.
Why choose our croquet?
High quality hardwood sticks.
Lacquered wood for even greater durability.
New ball design.
A sturdy bag that stores everything comfortably.
Simplified rules for the game are also included.
From the photos in our description you can see the beautiful design.
One of the few croquet games that has its own Czech video review - on our YouTube channel.
Read the review on our blog.
Game parameters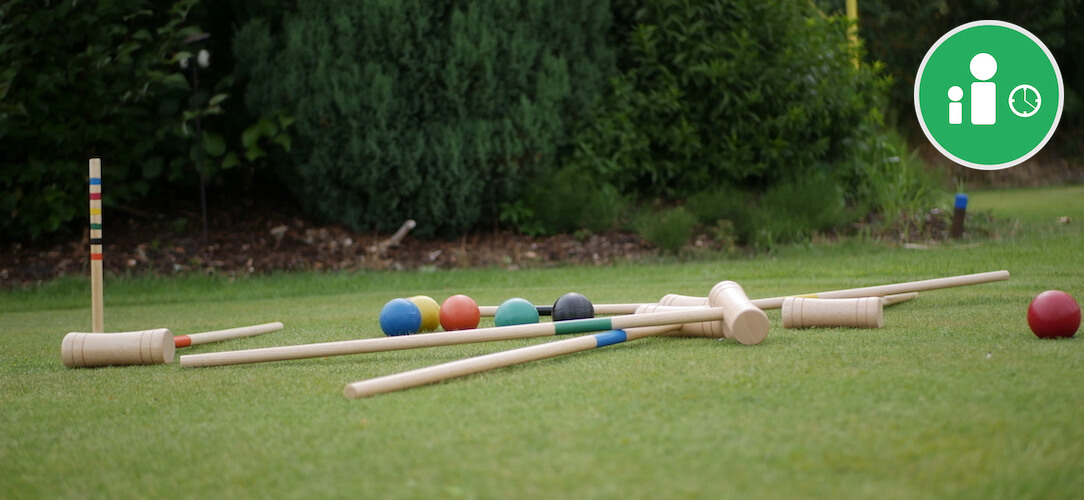 | | |
| --- | --- |
| Number of players: 2-6 | Communication: |
| Playing time: 30 minutes | Strategies: |
| Age of players: from 5 years | Coincidence: |
Game Review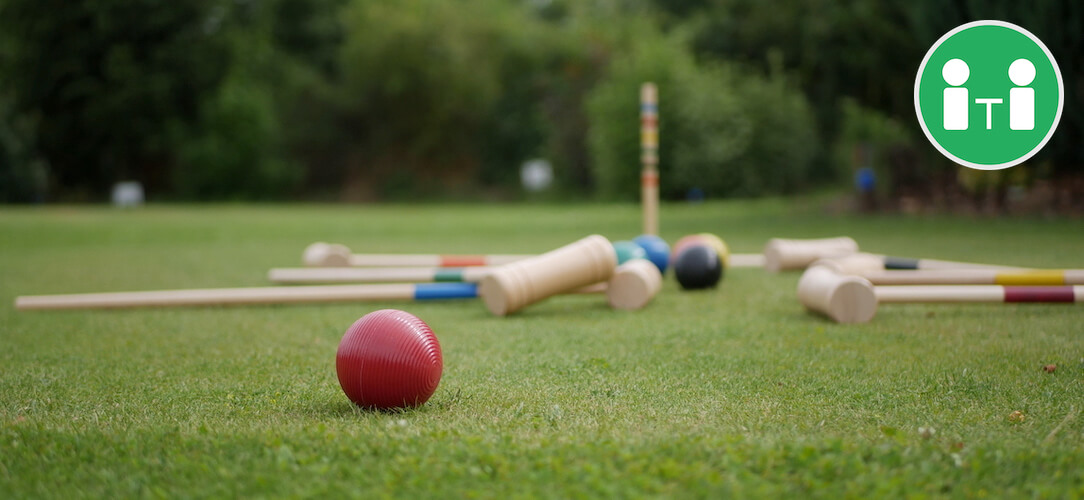 | | |
| --- | --- |
| Ondrej rates + / - | |
| + extended sticks | - a grassy area is a must |
| + a small area is enough for the game - garden, yard,... | - "tournament" rules look complicated and players may not want to read them |
| + practical bag for easy carrying and storage of the game | |
The croquet is made of high quality hardwood. The sticks and other wooden accessories are also varnished to make the game look better and withstand impacts longer. However, it is necessary to reckon with the fact that the wooden elements will be used over time anyway, but it will have no effect on the game... We wrote about the game complete review, be sure to read it at our blog.
Expert opinion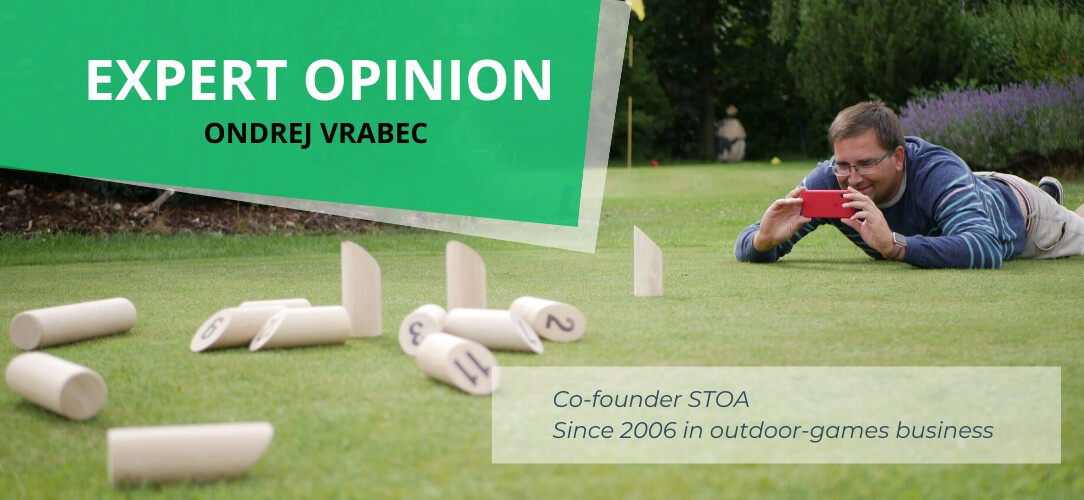 If you're looking for a traditional garden game, for children or adults, for example to complement other outdoor games, then you won't go wrong with Croquet. All you need is an area of mown grass, set up the goals and you're ready to play. There are many versions of Kroket on the market, my simple recommendation is if you want the game to last choose a quality hardwood version. The higher price is due to the fact that you will only find quality designs that last. When playing, keep in mind that the balls and clubs are both hitting each other, but the point of the game is not to play croquet like baseball, so there is no need to use force when hitting.
Additional parameters
Category

:

Croquet
Age

:

From 5 years
Number of Players

:

6 players
Type

:

Motion
Be the first who will post an article to this item!

BEX Sport AB - Swedish manufacturer of garden games. Producer of traditional wooden games (Kubb, Croquet, Mikado, Rings, Domino, etc.).
We offer all the games but only in Original or PRO versions – we put emphasis on high quality wood finish.
Related products