Product detailed description
The Croquet game package is made for up to six players.
The package contains: 6x croquet stick (hammer + handle), 6xball, 2x target/ tarting pin, 10 wickets, 1x easy-to-carry bag, Rulebook.
Proportions: hammer: 15x5,5cm, handle: 76x2cm, ball: diameter 7cm, wicket wire: 23x17cm
The package includes Croquet game rules in Czech language. Game rules also contain basic wicket construction diagram.
The game is packed in a cardboard box.
All game features are made from quality hardwood (natural rubber). The wood is treated with an outdoor varnish. The wood will endure hard bumps and

last through many games.

We recomend you to always choose only high-quality croquet sticks and balls, made from hardwood and treated with a protective varnish.
Croquet can be played by 2 to 6 players. They play against each other individually or in teams. Each player plays with a stick and one ball. The goal of te game is to pass through all the wickets towards the the target pin and then back again. Check out our videoreview here.
GAME FEATURES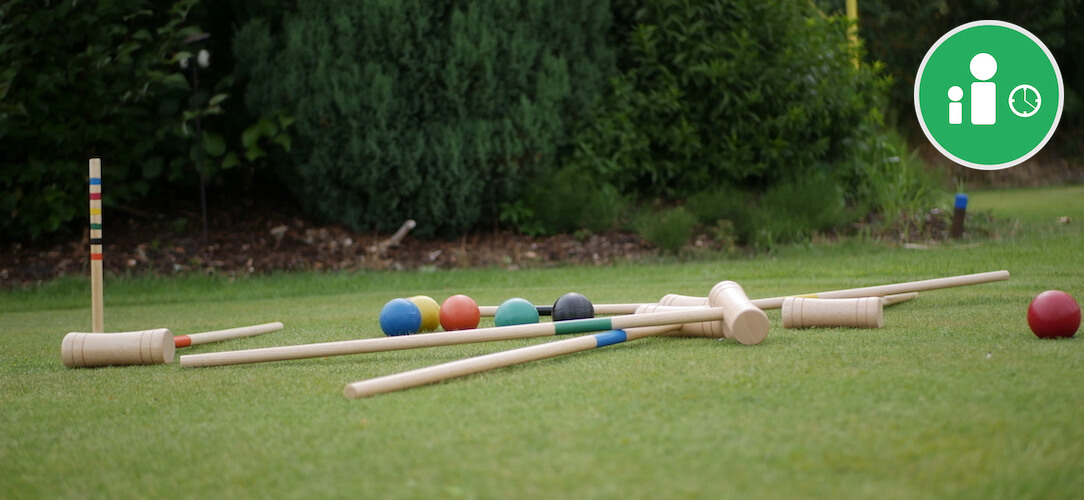 | | |
| --- | --- |
| Number of Players: 1-6 | Communication: |
| Average game time: 30 min | Strategy: |
| Minimum age: 6 years | Coincidence: |
| Necessary preparation: easy | |
EXPERT OPINION

If you're looking for a traditional garden game, for kids or adults, you can't go wrong with croquet. All you need is a bit of grassy space, wickets and you can start playing. You can find all kinds of different game variations, however I recommend you to choose a quality hardwood version - if you want your game to last. Our shop has a bit higher price exactly because we only offer high-quality equipment that will last long enough. When playing, keep in mind that croquet is not baseball - you don't need use too much force to succeed.
If you are interested in more details about the game, be sure to read the review on our blog or check out the video reviews of our games on our Youtube channel.
--------------------------------------------------------------------
OUR OWN GAME PHOTOGALLERY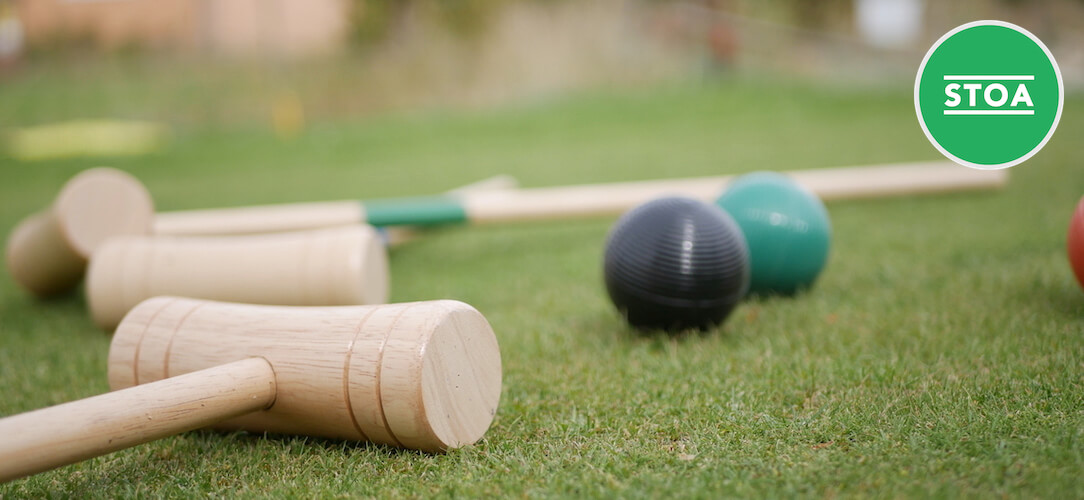 We make our own photographs of all the products that we offer on this website. We know that while buying online, it's necessary to take a look from as many angles as possible - so just look on the gallery that each product has.
Additional parameters
Category

:

Croquet
Age

:

From 5 years
Number of Players

:

6 players
Type

:

Motion
Material

:

Wood
Color

:

Natural
Be the first who will post an article to this item!

BEX Sport AB - Swedish manufacturer of garden games. Producer of traditional wooden games (Kubb, Croquet, Mikado, Rings, Domino, etc.).
We offer all the games but only in Original or PRO versions – we put emphasis on high quality wood finish.