Product detailed description
| | | |
| --- | --- | --- |
| hardwood | Swedish Kubb Federation | engraving on request |
| storage bag | tested in practice | lacquered finish |
Basic information
The game set is made of high quality hardwood (rubberwood).
This version is also lacquered - so that the game lasts even longer.
A luxury version of the famous Kubb game - suitable for tournaments, as an exclusive gift or an elegant game.
Supplied with a carrying bag for easy transportation.
The PRO version is also designed for tournament competitions.
The set includes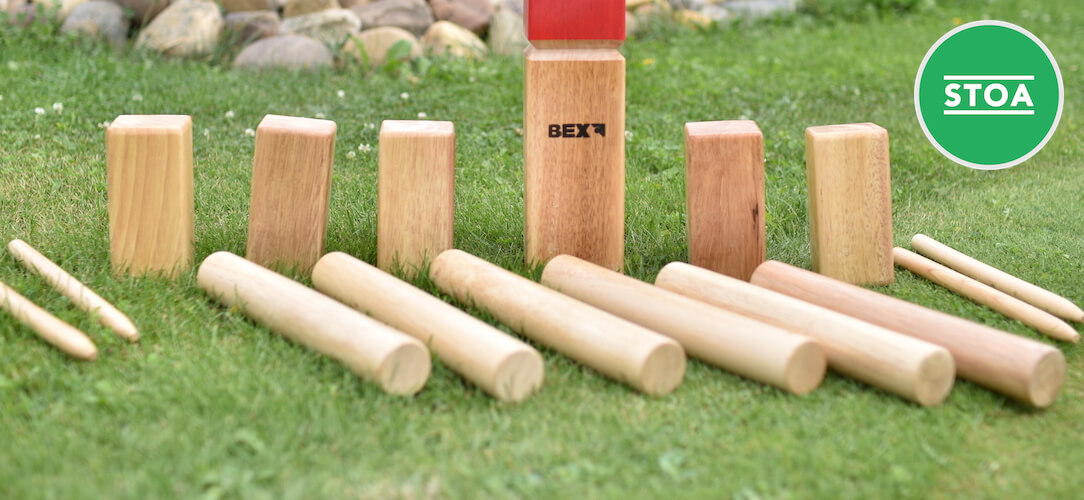 1 king with red head, 6 throwing pins, 10 cubes, 4 pins to mark the playing area.
1 bag and Czech rules of the game.
Size: kings 30x9x9 cm, kubb 15x7x7 cm, throwing pin 30x4,5 cm - PRO version is slightly bigger than Kubb Original version.
Official tournament version. The only tournament version in our offer.
Rules
The game set is approved for the game Kubb - Swedish Kubb Federation! The dimensions of this set are suitable for Kubb tournaments.
The rules of the game in Czech language are included.
Be especially careful when children are playing - it is a bottom throw (no propeller or overhead throw). Similarly, be careful when landing (wooden) cubbies.
Packaging
The game is packed in a cardboard box.
And it also includes a bag for easy carrying and storage of the game elements.
Tournament, celebration, event
The game is ideal for both two teams and 2 players.
Teams don't even have to have the same number of players and the game can be played by everyone - children, seniors and even adult players will be entertained.
Custom logo or text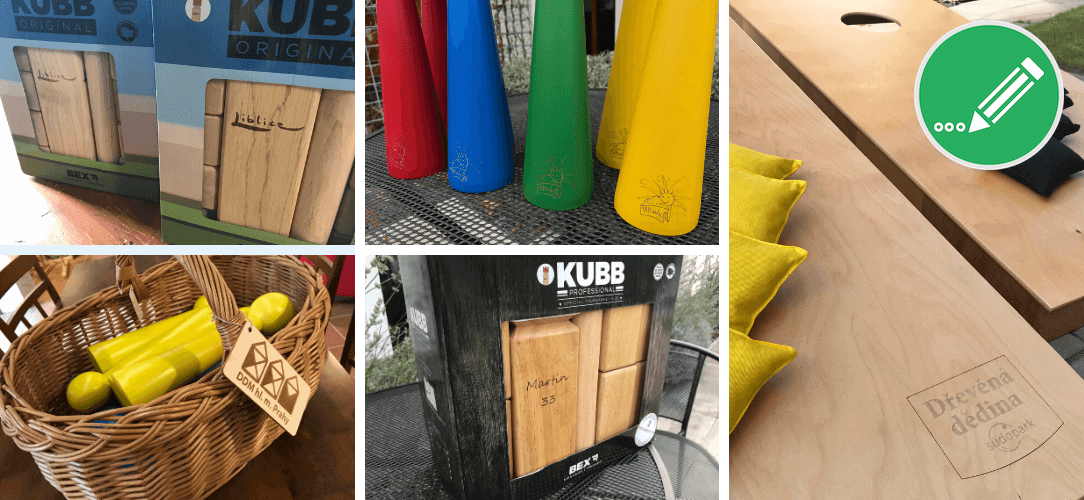 Do not hesitate to contact us - it is no problem for us to engrave your logo or any text on the game. Engrave the remaining (one side is the manufacturer's logo) three sides of the king.
Game parameters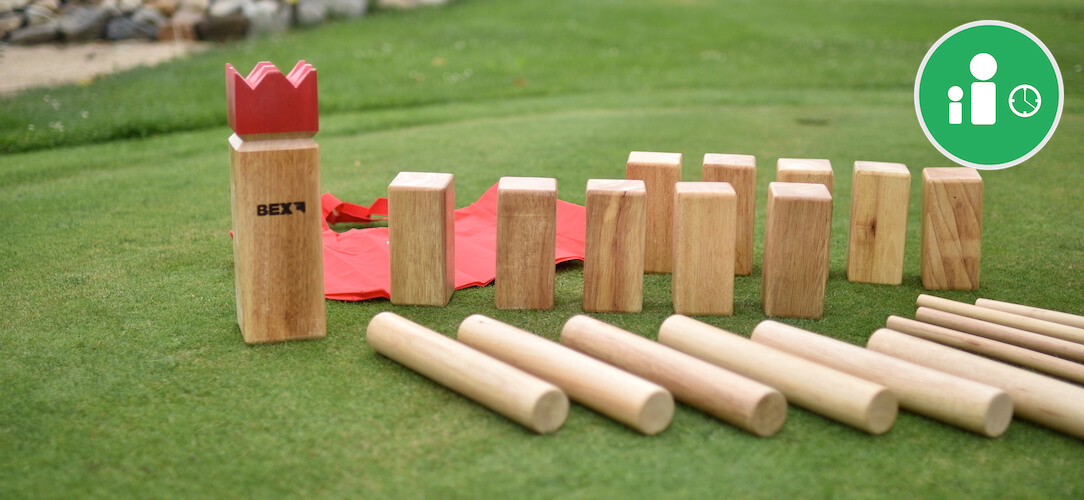 | | |
| --- | --- |
| Number of players: 2 or teams | Communication: |
| Playing time: 20-60 minutes | Strategies: |
| Age of players: from 4 years old | Coincidence: |
| Preparation difficulty: easy | |
Game Review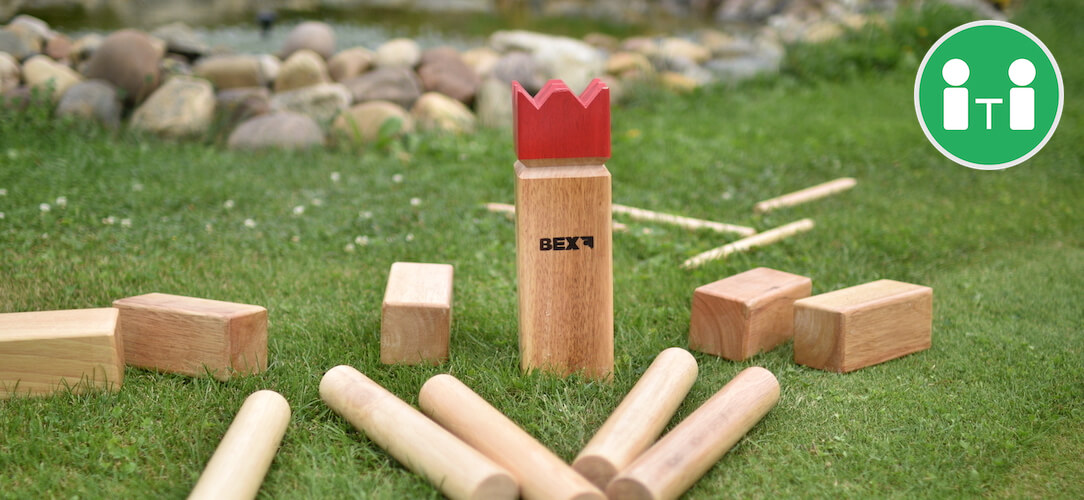 | | |
| --- | --- |
| Ondrej rates + / - | |
| + interesting game for two or more players | - a grassy area is ideal and in our opinion a must |
| + difficulty can be adjusted by the size of the course | - a little more complicated rules/understanding at the beginning |
| + practical storage bag | |
| + exclusive design | |
The design of Kubb PRO is lacquered compared to the Original version. The main difference is that the painted version looks better and can withstand the impact of wooden pins for longer. However, it doesn't affect the game itself, because you have to take into account that the wooden elements will wear out over time anyway - it's more of an aesthetic difference... We wrote about the game complete review, be sure to read it at our blog.
Did you know?
Expert opinion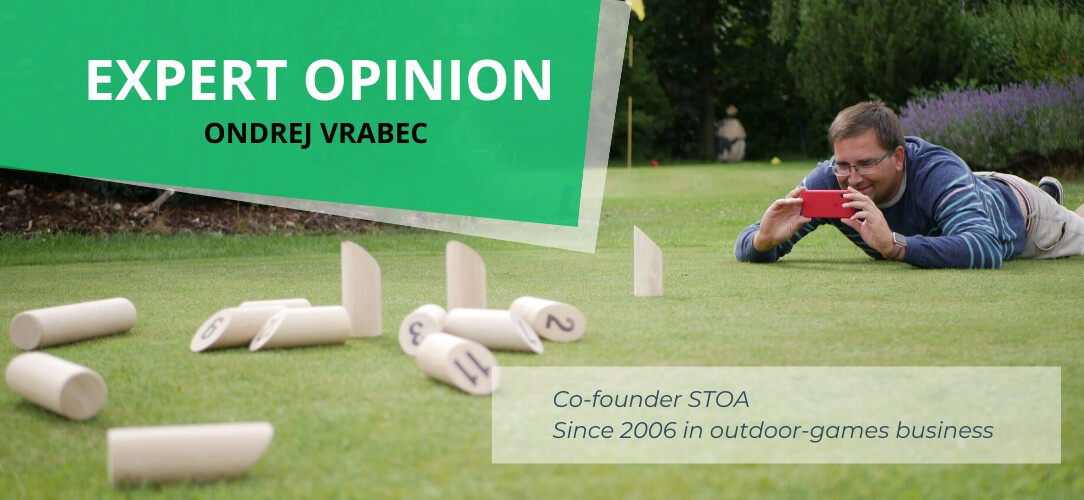 I myself first saw Kubb back in about 2009 when it was played by strangers in the park. I didn't really understand what they were doing and maybe that's why I resisted the game for quite a while. A great pity, because the game is incredibly catchy, especially if you play in teams (each side throws 6 pins - so up to a team of 6 players when everyone will be "in the game"). However, it is not only about throwing pins but also about tactics that you will discover during the game. We also play the game with smaller children at our suburban camps, so I can recommend the game for the whole family, friends, teambuilding,...
If you're interested in learning more about the game, be sure to read our review on our blog or check out the video review of the game on our YouTube channel.
Be the first who will post an article to this item!

BEX Sport AB - Swedish manufacturer of garden games. Producer of traditional wooden games (Kubb, Croquet, Mikado, Rings, Domino, etc.).
We offer all the games but only in Original or PRO versions – we put emphasis on high quality wood finish.