MyMinigolf - minigolf set Basic
Product detailed description
Design for everyone who wants to have a large number of obstacles to choose from.
The whole set contains a total of 9 different types of obstacles.
The price also includes: 1x "pro" minigolf club - length 90cm, 2x minigolf ball. And a notepad for writing down the results.
You can play indoors and outdoors - great variability of game elements.
Designed for schools, companies for company parties, private individuals, but of course also for everyone who likes to play.
Obstacles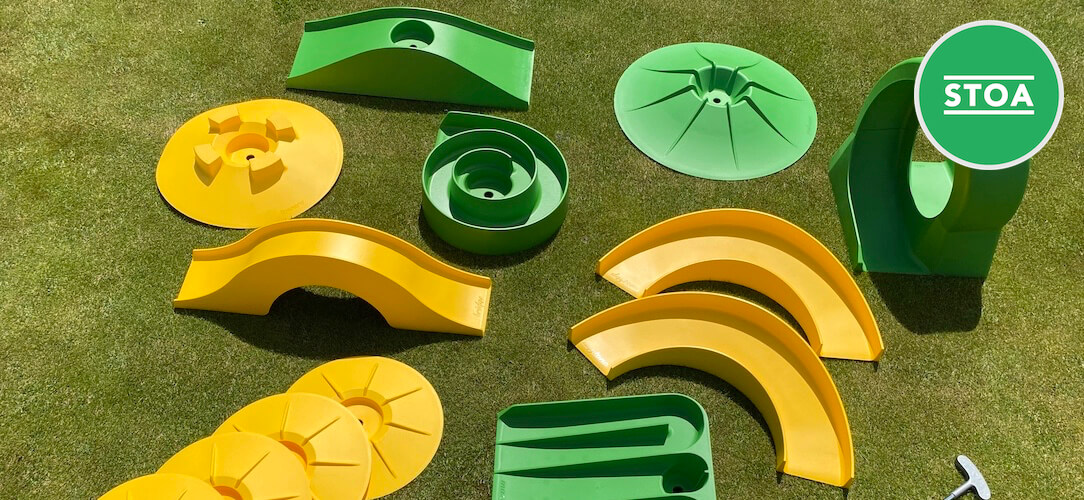 Training, Wave, Tower, Labyrinth, Bridge, 360, Spiral, Turn, Volcano.
Obstacles that do not end directly in the hole have their own yellow hole.
Obstacles are made of high-quality and durable plastic material. And they are made directly in Germany.
Obstacles have a "sharp" edge to make good contact with the surface.
Dimensions of obstacles
Training (yellow): diameter 33 cm, height 3 cm
Wool (yellow): 64x19 cm, height 13 cm
Tower (yellow): diameter 45 cm, height 8 cm
Labyrinth (green): 34x42 cm, height 13 cm
Bridge (yellow): 67x15 cm, height 19 cm
360 (green): 30x38 cm, height 42 cm
Spiral (green): diameter 40 cm, height 10 cm
Bend 1 pc (yellow): 63x30 cm, height 10 cm
Volcano (green): diameter 54 cm, height 8 cm
Important
This is plastic - DO NOT CLIMB or DO NOT SIT on the obstacles.
The game is suitable for children from 4 years old.
Rules
Players freely place obstacles in the defined space. They determine where the individual obstacles start and try to play a set of obstacles sequentially in as few strokes as possible.
The player who plays the least wins.
Can also be used as obstacles or other obstacle options for our Garden minigolf.
Game Parameters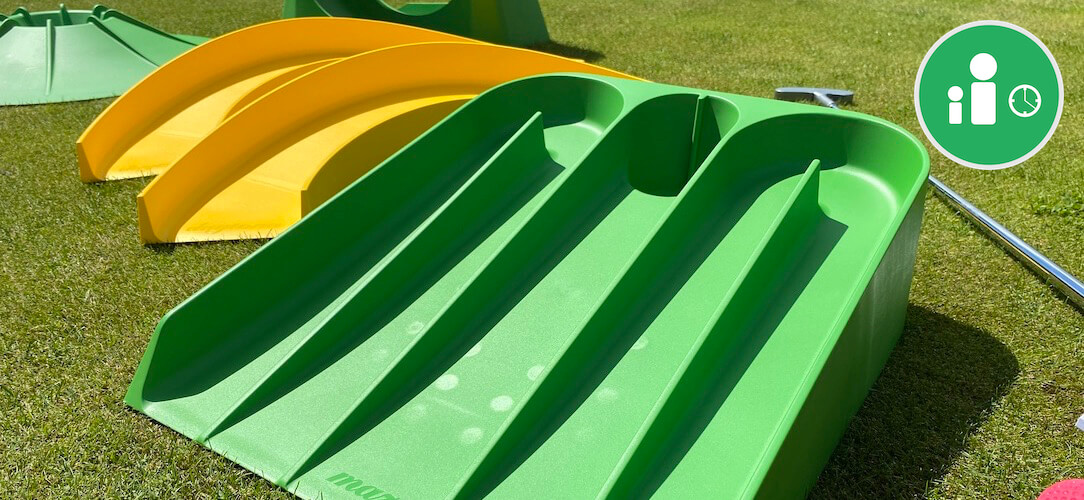 | | |
| --- | --- |
| Number of players: 1-unlimited | Communication: |
| Playtime: 40 minutes | Strategy: |
| Age of players: from 4 years old | Random: |
| Difficulty of preparation: easy | |
Game Review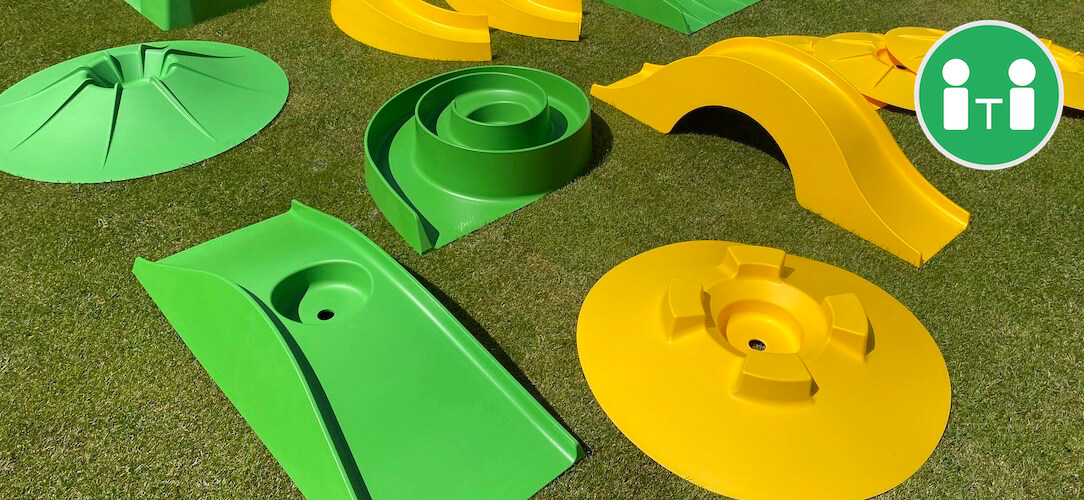 | | |
| --- | --- |
| Ondrej evaluates + / - | |
| + obstacles are quite big, that surprised me | - watch out for trampling - plastic |
| + transport bag, so nothing rolls around | - suitable surface - paving is not always ideal |
| + easy to carry (only 12.5kg) | - grass surface outside - low cut grass required |
We wrote a complete review about the game (Zahradní minigolf implementation), be sure to read it at our blog.
Expert opinion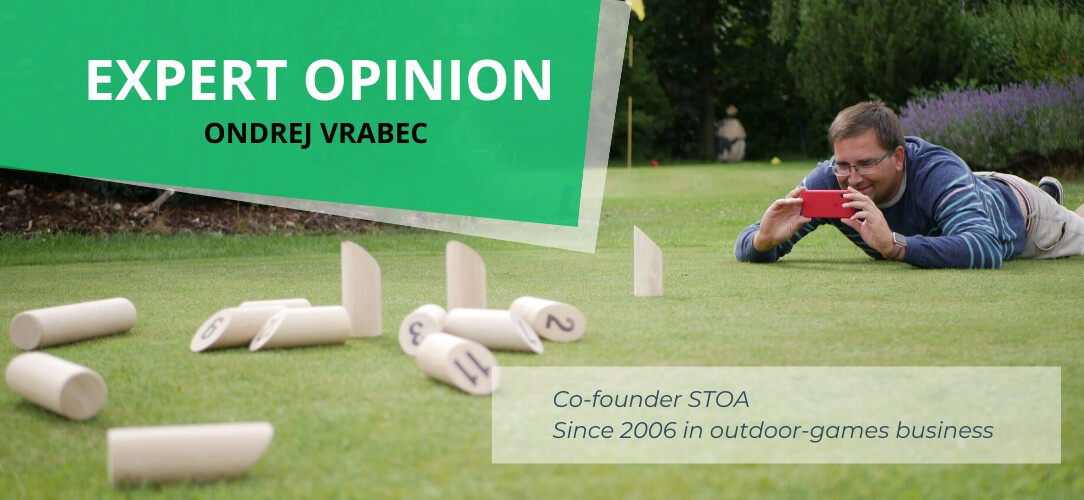 We included the game in the assortment as an alternative to our minigolf. I love that the obstacles are really big and packaged in a great carrying bag. A mini golf club and 2 balls are also included. I'm a little worried about the plastic - dangerous to step on or if someone sits on it. The great thing is that you can play on different surfaces - the obstacles have such "target holes".
However, the problem can be just the right surface - if it's grass, then a really nice "golf" surface. Variants are wooden grates or concrete. Of course, the playing surface is a carpet - I would probably choose the game on it the most.
If you are interested in more about the game, be sure to read the review on our blog or watch a video review of the game on our Youtube channel.
Be the first who will post an article to this item!

Minigolf - wherever you want. The original mini golf course that you can play on almost any surface. Made from quality materials directly in Germany. All obstacles can be easily combined and placed on any surface - so you can play at home on a carpet, outside on the grass or on the terrace.
Myminigolf won a number of "Moving Innovation", "Spiel Gut" awards, but also became the winner of the Golf Europe Product Award 2008.