miniGarden-Minigolf track
Product detailed description
Dimensions of the track: length 2.5 m, width 0.3 m (0.6 m diameter circle).
Mini-track includes: 1x mini-golf stick "professional" - length 90 cm, 2 mini golf balls - soft and hard.
Construction of the track: galvanized (powder coated based on RAL scale for extra charge).
Weight: approx 25 kg - the whole construction.
The game also includes the basic set of 5-replaceable obstacles: bridges, tunnels, crossroads, jump blocks.
Colour design of obstacles: red.
Performing obstacles: tin, galvanized base and powder coating.
Construction readiness: horizontal surface - preferably scrubbed / pavement / wooden slats etc. - Size approx. 3x1m.
Documentation - dimensions, possibilities for the subsoil (inspiration, materials serve for the path of length of 5m): HERE.
Package: track is composed of just one part. The part is wide 30 cm + head of the track, size 60 cm. The track is wrapped in shrink film at the beginning and end of the track. The track can be transported by a converted van, sidecar, but it has also been already transported in a larger personal cars. Alternatively, you can choose our transportation - and we'll send you the calculation.
Game features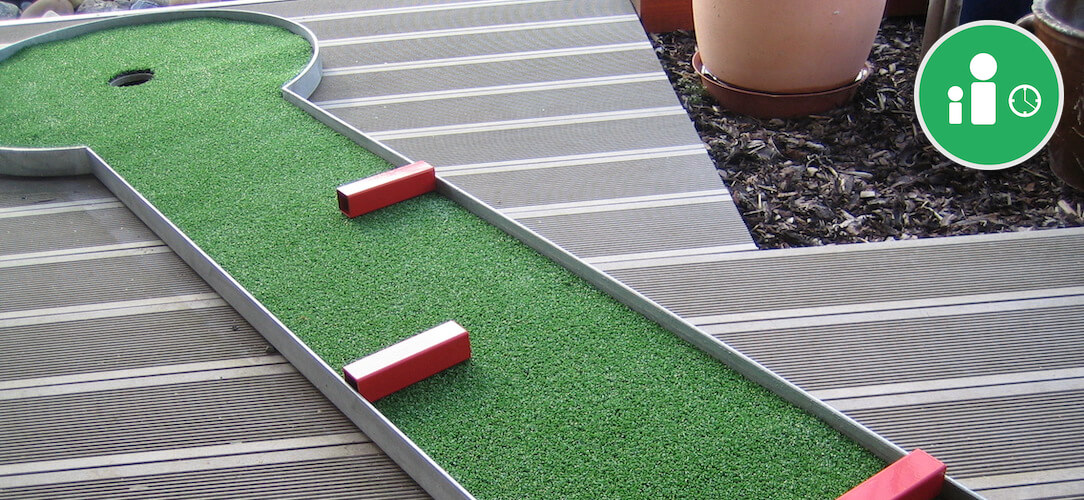 | | |
| --- | --- |
| Number of Players: 1-unlimited | Communication: |
| Average Game Time: 50 minutes | Strategy: |
| Recommended Age: 4 years and up | Coincidence: |
| Necessary preparation: easy | |
THE EXPERT'S OPINION

A smaller variation of the well-knoown Garden Minigolf - everything is half the size. This version is suitable for smaller space - it could be put on a balcony, a terrace or even a room.
There are also more tracks that you can use, so it can be interesting even for a hotel or guesthouse garden, more tracks will definitely keep the guests busy for some time. If you're looking for an expansion of your garden games collection, this minigolf (perfect for small children) this could be it. It probably won't be an alternative for the classic Garden Minigolf, the bigger version is just more diverse. However, this smaller version could ideally complete the bigger one..
If you want to find out more, check out our blog review, or our video review on our Youtube channel.
--------------------------------------------------------------------
OUR OWN GAME PHOTOGALLERY

We make our own photographs of all the products that we offer on this website. We know that while buying online, it's necessary to take a look from as many angles as possible - so just look on the gallery that each product has.
Be the first who will post an article to this item!

STOA-Zahradni minigolf s.r.o.: we are a Czech family business focused on manufacturing, selling and renting outdoor and garden games. For more than ten years, we have been making your favourite games for you.
We know what are we doing and that is why we can give you the advice you need and discuss your requests with you. We attend exhibitions, you can read about us in the media. We have our own development centre for developing new games.
We love our job and that is why our main claim is: We are happy to make you happy.