Related products
Product detailed description
Disks - set of 3 disks - SQU (Standard Quality):
Disc diameter: 21 cm.
Different color versions according to current stock availability. Currently yellow, green, white.
Always well visible (strong colors) on the grass, so that you can find them comfortably.
Weight: Driver: 151 grams - long distances (up to 130 meters), Midrange: 150 grams - passes (up to 100 meters), Putter: 152 grams - basket finishes (up to 60 meters)
The discs are homologated by the Professional Discgolf Association (PDGA).
Made in Germany.
You can play even in winter - the discs can withstand negative temperatures. Just don't leave them permanently exposed to these temperatures and always clean them after the game.
Ideal for beginners and intermediates to get acquainted with the game. The player usually uses all three discs during the game - Long Distance Driver, Midrange for passes and Putter for finishing the disc in the basket. Each disc is a little different and requires a different throwing technique - train, play, score :).
Why buy this kit?
I want to start with Discgolf and I'm looking for the perfect set of price / performance discs. The set is suitable for one player.
You can play any course with this set. It is also great for home training, for example with our supplied target.
A set of disc golf discs for beginners and intermediates.
In particular, the putter has a fixed edge (compared to ordinary plates), so it can withstand impacts into the iron chain on the target. But keep in mind that the discs will of course wear out - impacts on the chain / tree, impacts on the grass / clay / concrete.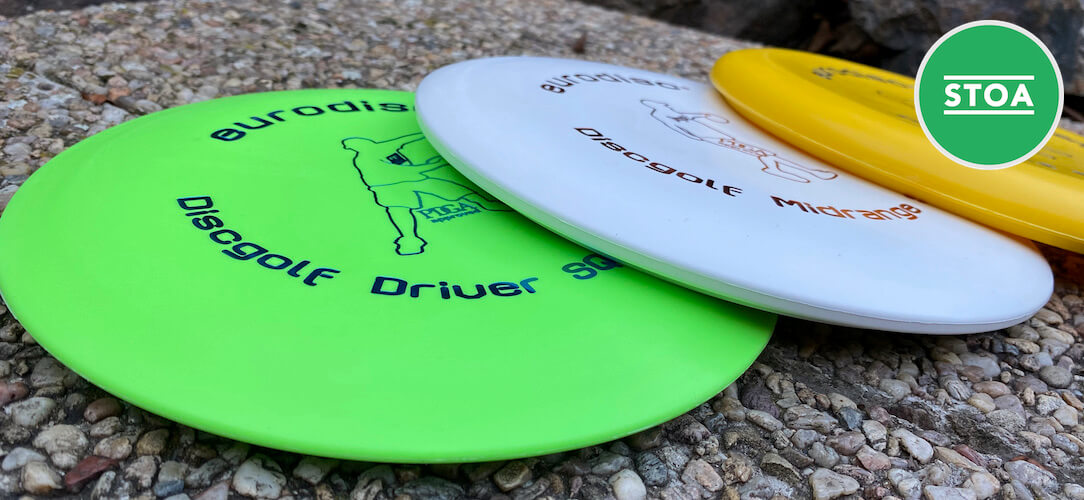 Be the first who will post an article to this item!

German manufacturer of discs for Ultimate, Discgolf as well as discs for children and dogs too. It all started with the conviction to learn more about the sport itself and also to introduce as many people as possible to this beautiful activity.
In our offer you will find basic putters for Discgolf - ideal for beginners to get to know the game (discs have been homologated by the Professional Discgolf Association - PDA since 2010), as well as bags - smaller for 6 discs but also larger for 15 discs and markers. The offer also includes disc golf baskets - Light (ideal for training, with friends, in the garden) or DLC - a better version of the Discgolf basket with more chains.